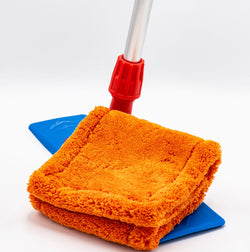 EZ Green Clean
Dry Dust Mop Fiber
Why a dry dust mop? How about it's 13x more effective than a traditional broom so the fur or dirt won't be back 30 minutes later!  Tightly knit fibers trap hair, pet fur, and small particles, holding them until the fiber is shaken, vacuumed, or washed. Use the dust floor dry mop anywhere that dry dirt needs to be removed... floors, wall surfaces, and ceilings!
*Floor cleaner tool not included, but sold separately here.
Works for: floors, dusting
Doesn't work for: carpet, soft materials
People who love this: mothers, dog owners, lovers of a clean household

Care Instructions for your fibers
Wash dirty fibers in a lint-free laundry bag with liquid laundry soap. Hang fibers to dry or use permanent press cycle on dryer. Between washes, rinse wet fibers out with soap. Don't use fabric softener or bleach, wash in dishwasher, use on hot surfaces or heat in microwave.