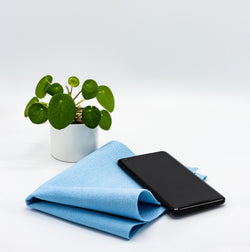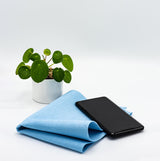 EZ Green Clean
Dust Tech Cloth
Dust, dust go away... really please go away.  The Dust Tech Cloth is the tool for you if dusting doesn't last.  This fiber picks up dry particles, hair and fur instead of recirculating them. Perfect for pet owners or desert homes. Simple to use, take the dry fiber and dust the surfaces.
Care Instructions for your fibers
Wash dirty fibers in a lint-free laundry bag with liquid laundry soap. Hang fibers to dry or use permanent press cycle on dryer. Between washes, rinse wet fibers out with soap. Don't use fabric softener or bleach, wash in dishwasher, use on hot surfaces or heat in microwave.